ComputerPro2000, Working to be your Best Custom Computer Builder in 2018!
Praise, Helpful communication, speedy shipping, great item as described. Recommended!

ComputerPro2000, Working to be your Best Custom Computer Builder in 2018!

Let us make it easy for you to own a custom built computer. Oh sure, anyone can buy a pre-built brand name computer. It's like buying a toaster. But the cost savings you think you are getting may mean more problems and expense in the long run. Just ask anyone who has been on hold with other customer support lines for 45 minutes or more! We know, we have worked customer support in other big brand name companies - where their own large volume has prevented them from helping you better. Don't settle for that. Get personal attention today!



Maybe you have never built a computer before or you have tried to build one yourself but you have run into new problems and need help. Well now you can get your custom computer and expert help from industry professionals. We use only the best parts, high quality cases and quiet fans from popular manufactures. With years of experience you get what you want and get it done right the 1st time!


You can make the best choice for your custom built PC with our expert C2000 Pro OEM system. Considering your wish list, our computers can be customized with the fastest GHz Intel Core i5 or Core i7 CPU on the highest speed motherboard with the best cooling system!



Want 4, 8, 16 or even 32GB (Gigabyte) of RAM (Random Access Memory)? With high quality components, we make the best system package possible. Your new custom computer can also have a large Hard Drive with Terabytes of space for your personal documents, pictures, music and movies.



You can order a Wireless Keyboard and Mouse, plus Dual Monitors. We specialize in systems with Gigabit Ethernet and WiFi (wireless) high-speed networking plus hubs or routers for gaming, home or office networking. Now your shopping experience can be as one-stop as possible.



We can install 80 Silver Rated, SLI and Crossfire Ready Power Supplies and the Operating system of your choice. Windows 7 is in standard pricing quotes but you can modify your order to get your choice of OS like Windows 8, Windows 10 or even Linux. Plus we have Monitors and Printers we can quote additionally. Be sure to ask about our systems with monitor and/or printer package deals!



Your computer can also come with a fast high quality Dual DVD/RW Drive or a Blu-ray Disc Drive for your favorite media viewing and an Internal Flash Memory Card Readers with USB 3.0 and eSATA too. For the fastest operating speed, you can get a 256GB, 512GB, 1TB or even a 2TB SSD Drive. (The warranty on some new SSD Drives can be up to 10 years with 1 year standard on most other parts).



You can count many features in your new custom build computer system. Extreme gamers can add NVIDIA SLI (Scalable Link Interface) or AMD CrossFireX multi-GPU technology on a new power gaming system of choice. The Computer Industry is changing daily and your custom built computer is an art form we do best. The system you order will be made just for you using parts and pricing available for a limited time. So to have us design a system with everything you want, look us up today!


---
Built by Information Technology Professionals (IT Specialists).

Buy a custom PC with confidence!
---
* List can change daily. Offer valid only while quantities last. Order now to easily get it fast!
For fastest delivery to any US location, we ship from airport industrial areas using UPS.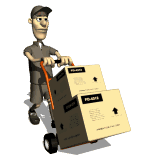 Estimated weight for a complete computer sold with a monitor is approximately 30 lbs.
---
ComputerPro2000, Copyright 1996 - 2018, All rights reserved. .Legal Notice.