The lucky person in this giveaway took ownership of a classic Commodore system, and they
did not even have to pay for shipping, just like my
Gold Planet Saving Member Giveaways
!
Wait! Is this too good to be true or do you actually give computers away?
I do! Here is why & how.
Too many old computers end up in landfills because their
owners do not know how to keep them working or they consider them obsolete.
But I choose to repair and restore retro computers and give them away rather than see
them go to a landfill to pollute the earth! I also enjoy upgrading all types of computers!
Upgraded Computers
also get sold sometimes for very little to keep your costs low. This can help motivate
new members to join Patreaon as
Channel Supporters & Channel Members
who agree to pay shipping costs.

You can also join the fun by sending your retro computer items to:

Attn:
ComputerPro2000
C/O Richard A. McFarland
P.O.Box 383
Saint Anthony, Idaho 83445
I make sure that all computers I get go to a good home and not a
landfill
.
Unlike some fan tech sites,
I turn nothing legal away
, then the magic happens!
Want to become a Supporting Member at my Patreon Page?
Besides being 1st to know about Giveaways,
Patreon Members get Special Bonuses
!
Care to help ComputerHobbyShop without becoming a member, subscribing or buying?
Donate as little or as much as you want via Secure PayPal Window by Clicking on Spock!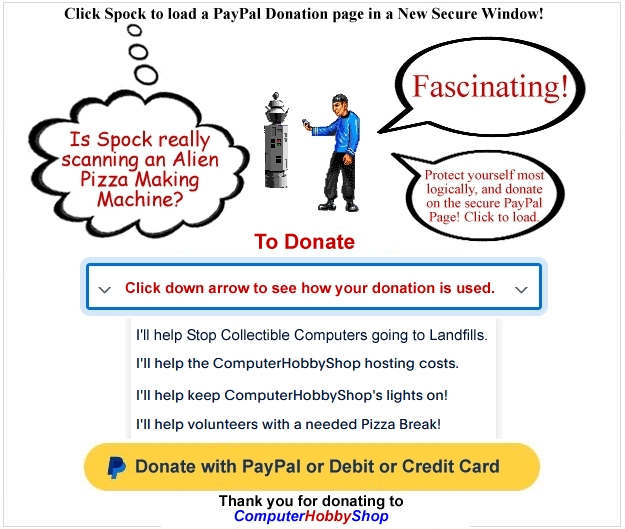 ---
Why use this site?
1. Your Contact for exclusive tech deals and
Special Giveaways
!
2. Don't miss another of my exclusive tech giveaways - get ahead of the game and save money too.
3. Members who also sign up here can save on
rare collectable tech
and even new sponsored giveaways too.
4. Example of an unbeatable deal - with early access,
a winner saved over $2,500
on a modern gaming computer!
Don't miss your chance to save big & win great tech gear -
sign up now!
Now tech hunters who want to save money,
get my exclusive help
finding great tech deals here and on eBay.
I also make fun videos for
Retro Computer Tech Fans on YouTube
to enjoy an enthusiast hobby!
I made it easy for anyone to
sign up
to keep an eye out for popular
money saving computer posts
.
---
Who owns this site?

I'm an tech geek and now I'm retired so I don't have to work for big business anymore!
But wait, I enjoy computers, so I made this fun site to read like my tech hobby blog.
It's OK if you are not a geek and don't understand computers yet.
I can show you how computers do compute with
RAM
.
Here on my website, this baby boomer tech geek will use computers as his hobby.
The boomer generation was the first to grow up in a technology-dominated world, and us
boomers have seen it all happen, from LPs to DVDs and from Happy Days to BluRays.
It's a matter of history that in the 1970s & 80s, geeks like me gathered
together in User's Groups to have fun helping each other out with tech projects!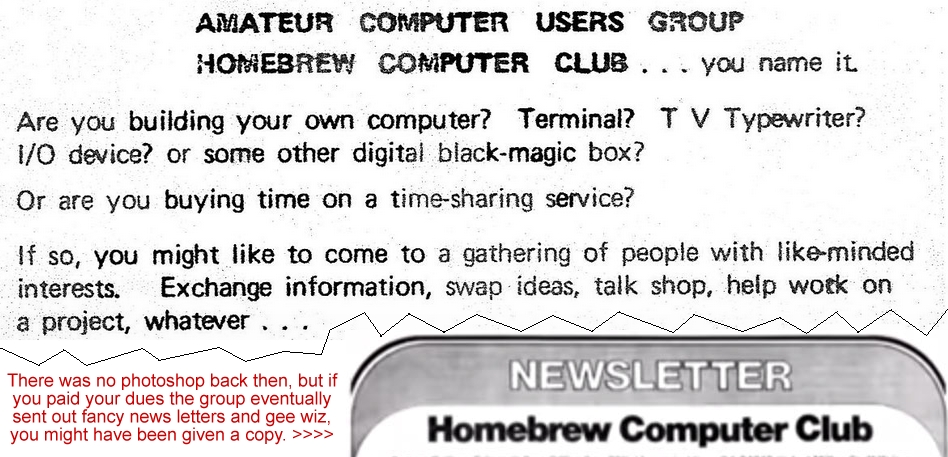 Just like the Good Ol' Days, enjoy fun and exciting tech projects and even modern computers too!
---
Examples of a Fun Tech Projects!
I found a modern use for the Apple Cinema Displays, (especially the 30" model and version
similar to the picture below). These use Dual Link DVI, and the Apple Dual-DVI Video Card
will drive these monitors in machines the way Apple intended. But did you know you can get the
display to work with many modern Computers? This includes PCs when you use an Active Adapter
like the Club 3D CAC-1510 USB Type C to DVI-D DUAL LINK Active Adapter. It has to be an Active
Adapter like a Club 3D to process the DVI-D DUAL LINK video signal correctly.
See a Cinema Display & Recomended Club 3D Active Adapter
.
Note: I have the Club 3D and have connected the Apple Cinema Display via USB C to send the
correct signals even from my Samsung Galaxy Book2 (with SnapDragon 8x CPU and Windows 10).
A pretty cool use for an older Apple product and of course it works with newer MacBooks too.
Also, to teach Mac Seminars in over 70 US Cities, my Bondi Blue iMac G3 was used to make
my PowerPoint Presentations. This needed my Apple History Pics from my old SCSI drives.
I had to upgrade my iMac with an SCSI add-in that I put in the secret mezzanine slot,
(this mezzaniene slot was a Molex 52760-1609 connector hidden inside on the motherboard)
.
Here is just one example of what that strange slot was for. I purchased an SCSI card from a
company in Germany called Formac. They called the card, "Formac iProRAID Ultra Wide SCSI"
It cost me almost $200 USD plus shipping costs. I had a lot of backup files and old software,
so it was very useful to get all my 68030 stuff into the G3 from my older Mac SCSI drives!
Click for a pop-up showing where the Formac Card was installed
.
Do you have a fun or crazy upgrade story you would want to share?
I could choose to use your story to go along with a sponsored giveaway!
Just look below and you'll find
my email address
to contact me!
---
If you have a fun idea for ComputerHobbyShop, contact me.
I may choose to use your ideas and/or donations in a future post and,
unless you choose to be anonymous, I'll post your name in the credits.
Of course, I don't like SPAM anymore than you do, so please
You may email an idea or question or to not miss any new post and
be listed with the first to know about new Giveaways, just
subscribe
.
Click here to see and enjoy a modern game computer upgrade, custom made by
RAM, (not the chips, but the Pro IT Trainer Guy)
.

See the history of 'RAM' on LinkedIn
or
---
Your name could be featured in a future post and/or video!
Since computers are my hobby, after I repair and upgrade them I post them here and on
eBay for far less cost than normal and some I give away whenever I can because...

See what I restored and then sent to the lucky winner in Japan before Christmastime
!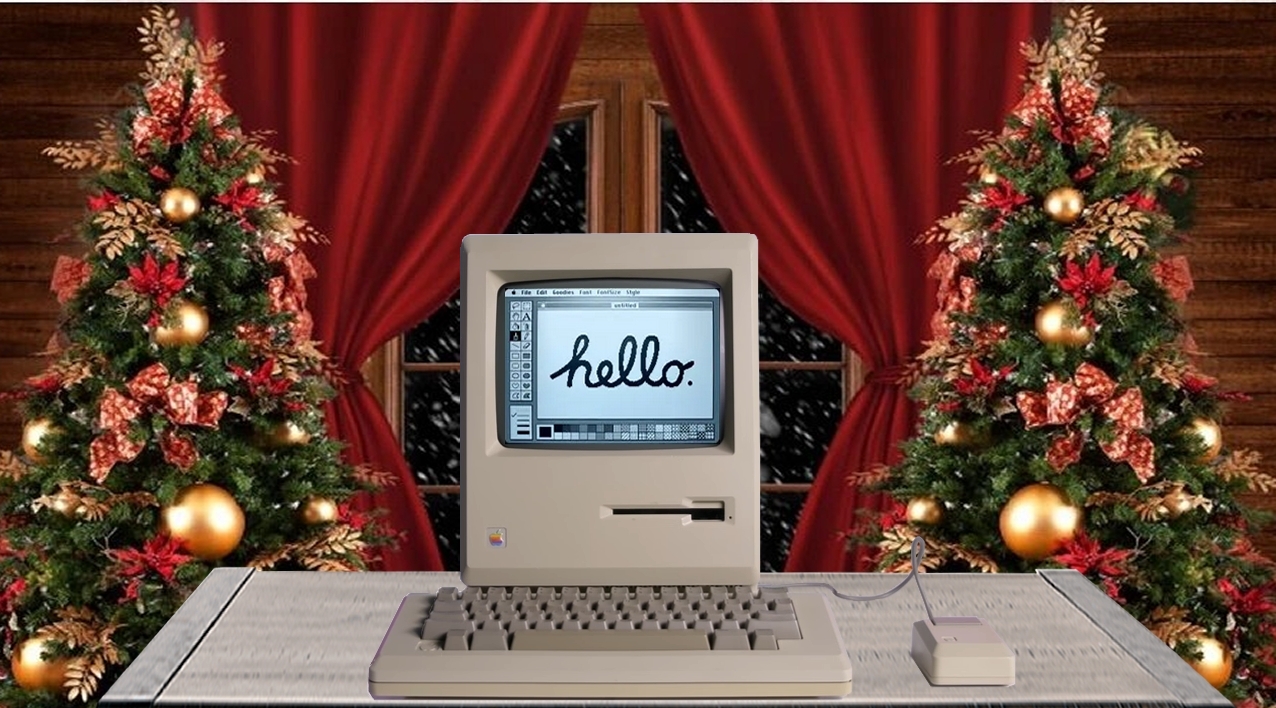 For this Special Giveaway the lucky new owner paid shipping,
but remember, a 128K Macintosh is rare and not found often.
Wait, I just saved another rare Mac from the landfill. I wonder who will get this one?
Short Video by @ComputerHobbyShop
((Longer version on YouTube
).
There is a lot more fun coming, so subscribe to not miss a future post, new video or giveaway!
Ready for more? Be sure to
sign up & subscribe
to be an early notified member.